Orthopedics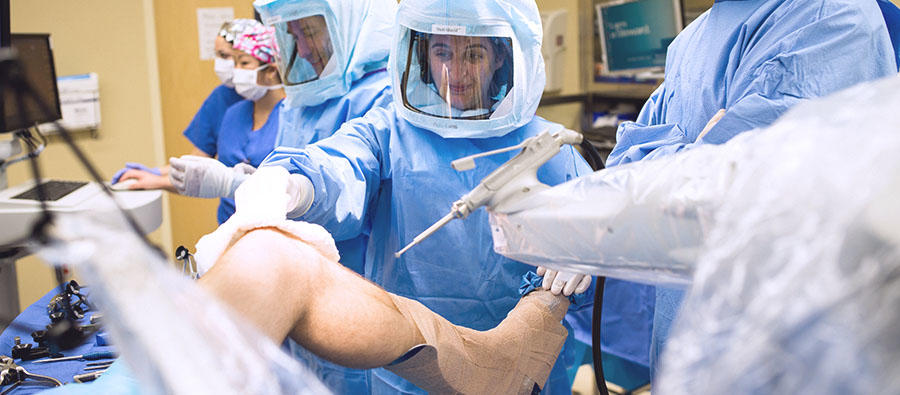 We are here to help you find what you need.
Damaged bones and joints can cause significant pain and limit your ability to function. We offer a variety of orthopedic services, from advanced diagnostic imaging technology, to innovative surgical procedures, to physician therapy and rehabilitation programs—all designed to help you get back on track.
Not long ago, a serious bone or joint problem meant major surgery was inevitable. But now, many joints can be repaired with minimally invasive arthroscopic techniques.
Many arthroscopic procedures do not require an overnight hospital stay. Patients return to the comforts of home sooner and generally experience less pain and faster healing.
Joint Replacement & Resurfacing
Hip and knee replacement can help many people with debilitating joint pain return to active lives. Joints are formed at the ends of two or more bones connected by tissue called cartilage. Healthy cartilage provides a cushion for the bones, but when the cartilage is damaged or wears away, the bones can rub against each other, causing great pain. Joint replacement can reduce pain, restore movement to the joint, and improve the overall quality of a patient's life.
When only a portion of the joint is damaged, a surgeon may be able to perform partial joint replacement. In other cases, a total joint replacement is required and involves inserting artificial joints, called implants. Joint replacement typically requires a few days in the hospital for recovery and rehabilitation.
Navio for Knee Replacement
Thousands in the Tempe, AZ area suffer from osteoarthritis in the knee. Fortunately, the Navio Surgical System is available at Tempe St. Luke's Hospital, offering relief for many through a unique, robotic-assisted partial knee replacement procedure.
Navio partial knee replacement is a customizable surgery that can reduce the recovery time—as well as the financial burden—frequently associated with a total knee replacement.
A special partnership between Hedley Orthopaedic Institute and Tempe St. Luke's Hospital means patients now have access to this cutting-edge technology as an alternative to more traditional techniques for alleviating knee pain. The procedure's consistent results and accurate implant placement are excellent reasons to contact Tempe St. Luke's Hospital for a consultation.
Is Navio Right For Me?
Consider the following questions to find out if Navio could be a solution for your knee pain:
Is your life adversely affected on a daily basis by knee pain?
Do you often have stiffness, swelling, shooting pain, limited range of motion, weakness, or creaking in your knee?
Do you find yourself refraining from activities you used to participate in because of knee pain?
Have you been diagnosed with osteoarthritis in the knee?
Has a doctor recommended a knee replacement?
If you answered yes to one or more questions, call the physician referral line at Tempe St. Luke's Hospital at 1-877-351-WELL to schedule a consult and learn more about the new Navio Surgical System for partial knee replacement.
Sports Medicine
The team at Tempe St. Luke's Hospital features specialists who are fellowship-trained in sports medicine, as well as orthopedic surgeons, physical therapists, chiropractors, and nurses who specialize in sports-related injuries.
Sports injury treatment may include medication, physical therapy, surgery and/or strength conditioning. All treatments aim to heal the injured muscle, bone, tendon or ligament while providing the necessary strength and flexibility to enjoy activities and reduce the likelihood of future injuries. Some of the many injuries treated at Tempe St. Luke's Hospital include:
Muscle injuries, including strains and tears and ligament sprains
Overuse injuries, such as shin splints (from running or playing soccer) or pitcher's elbow
Stress fractures
Shoulder injuries (separations, dislocations, and rotator cuff injuries)
Elbow injuries, including dislocations, sprains, and tendonitis (e.g. tennis or golfer's elbow)
Knee injuries, such as ACL tears, other ligament injuries, meniscus injury, jumper's knee, runner's knee, and direct trauma to the joint
Post-traumatic arthritis
Foot injuries, including Achilles tendon injuries and plantar fasciitis
If you are experiencing one of these (or other) sports-related injuries, please contact Tempe St. Luke's Hospital at (480) 784-5667 to schedule an appointment. 
Advanced Sports Medicine Therapies
Providers at Tempe St. Luke's Hospital offer several advanced therapies for sports medicine patients, including: 
Platelet-Rich Plasma Injections: a regenerative treatment that uses the body's natural ability to heal. Frequently used with common sports injuries such as tendonitis, strains, sprains, and other similar issues with muscles, ligaments, and tendons.
Amniotic Membrane Stem Cell Injections: a liquid tissue matrix containing proteins, growth factors, lipids, multipotent cells, cytokines, and other important nutrients. Frequently used to promote healing in inflamed tissue or tissue with voids or defects caused by trauma.
Cold Laser Therapy: small device emits non-thermal light photons. Used to treat injuries of the knee, back, neck. and tendonitis.
Subchondroplasty for Knee Pain
Subchondroplasty® is a new surgical procedure available to patients experiencing knee pain and other types of bone and joint pain that is caused by bone marrow lesions. During the subchondroplasty procedure, the orthopedic surgeon creates a tiny hole in the bone and a calcium phosphate mineral compound is injected into the bone through this hole. This compound fills the damaged area, and is resorbed over time. Resorption is a natural process in which the body replaces the compound with healthy bone matter.
Subchondroplasty can be done under local, regional, or general anesthesia. Patients typically go home the same day of their procedure. Though the recovery process varies from patient to patient, most patients experience some discomfort or pressure for the first two to three days, followed by crutch support and physical therapy for regaining strength and mobility.
Researchers have suggested that bone marrow lesions may be precursors to osteoarthritis. Patients who have the subchondroplasty procedure may still be candidates for total joint replacement surgery at a later date.
For more information about our orthopaedic services, please call (602) 251-8682.
Conditions
Bone and joint care for hands, elbows, shoulders, ankles, knees and hips
Broken bones
Spine and back conditions
Sports injuries
Work-related injuries
Treatments
Arthroscopic surgery
Ligament reconstruction
Partial Knee Replacement with Navio®
Subchondroplasty®: New surgery for treating knee pain
Total joint replacement
Carpal tunnel release surgery
Resources
Team Sports: Preparing Your Child

The new school year has begun, and many children have already jumped into their fall sports programming – but just how prepared is your child or teen to participate in school sports? And more importantly, how can you ensure their safety throughout the season? While sports can be one of the best things about growing up, they come with inherent risks and dangers.