COVID-19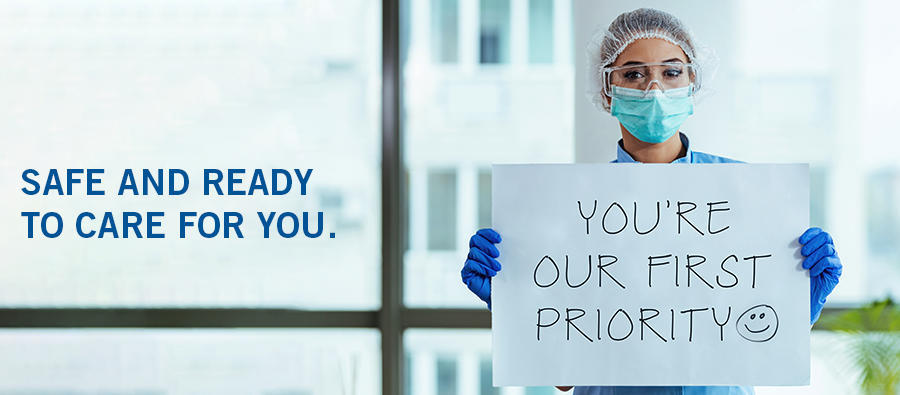 At Tempe St. Luke's Hospital, we're taking precautions to make sure our hospital is clean, safe and ready for your next visit.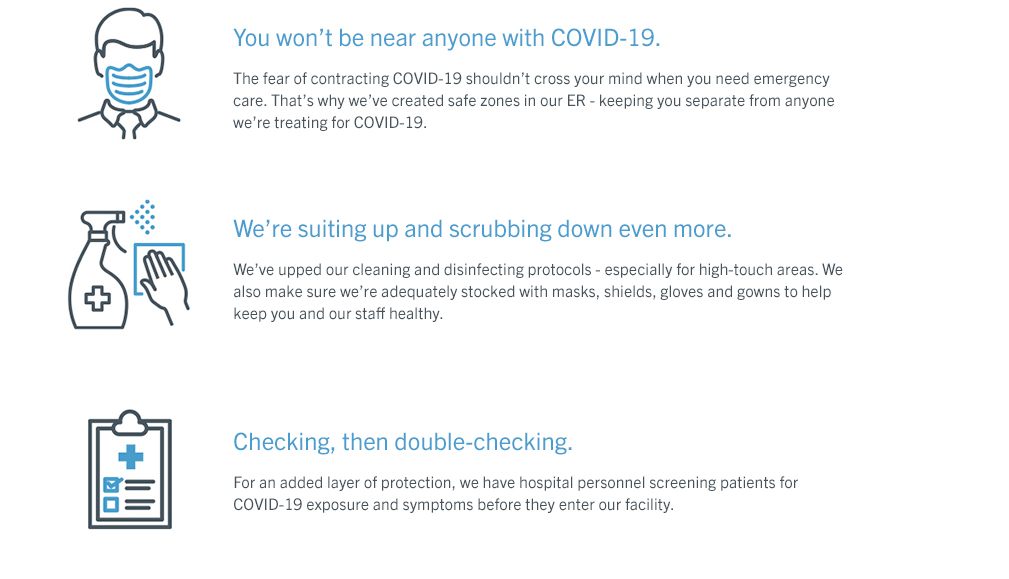 Your health and safety are our top priority.
Hospital Reopening Announcements
Our clinics are open, elective procedures are ready to be scheduled, and our emergency rooms continue to be a safe place to treat ALL emergencies. From serious conditions to aches and pains, your health care needs didn't stop. We know this. And now it's time to get you and your family the advanced medical care you need.
Tempe St. Luke's Hospital is taking additional, necessary preparations to ensure patients can receive compassionate care in a safe, carefully managed environment – with confidence and without fear.
Our Safe and Ready program consists of a rigorous five-point standard ensuring patient safety, confidence and convenience:
Expanded hours will allow previously cancelled procedures to be scheduled as quickly as possible.
Any COVID-19 related care takes place in designated areas away from other patients and their families.
Emergency Departments are reorganized to be a safe place to treat all emergency patients.
A stringent cleaning policy has been implemented throughout the hospital.
A strictly controlled visitor and masking policy is required for patient safety.
You can rest assured that we have made the necessary preparations to care for you in a safe, controlled and professional way.
We're here, and we're ready to provide the care you need.
---
Tempe St. Luke's Hospital continues to monitor the national and global situation of coronavirus disease 2019 (COVID-19) and is prepared to support our community and safely care for any ill patient. Out of an abundance of caution, we have activated hospital preparedness protocols to:
Prevent the spread of respiratory diseases, including COVID-19, within the facility.
Maintain the health and wellbeing of our employees.
Promptly identify and isolate patients with possible COVID-19 and inform the correct facility staff and public health authorities.
Care for patients with confirmed or suspected COVID-19 as part of routine operations, and potentially care for a larger number of patients in case of an escalating outbreak.
 
Visitor Restrictions
IMPORTANT INFORMATION ABOUT VISITING RESTRICTIONS
Tempe St. Luke's Hospital is fully prepared to care for our patients and our community. 
Out of an abundance of caution, effective 12/1/2020, we will implement visitor restrictions. This is in response to the increased presence of COVID-19 in our community and is designed to further protect our patients, their families and our staff.
We remain ready to serve all of your health care needs and have taken the necessary steps to ensure patients can receive care in a safe environment.
Our stringent safety measures include: mandatory wearing of masks, social distancing in waiting areas, and vigilant cleaning in all areas, which includes the use of EPA-registered, hospital-grade disinfectants validated for use against COVID-19. We also pre-screen all patients scheduled for procedures, and screen everyone before they enter the hospital.
VISITOR RESTRICTIONS EFFECTIVE TUESDAY, DECEMBER 1ST, UNTIL FURTHER NOTICE
Exceptions may be made in certain circumstances:
Pediatric care: ONE parent/guardian permitted
Maternity and Labor and Delivery Units: ONE significant other/support person permitted
Special Care Nursery: TWO parents/support persons permitted
Other extenuating circumstances (such as hospice and end-of-life care) will also be considered based on the best interest and needs of the individual patient. All exceptions must be approved by the care team. 
Please note: For patients with physical and intellectual disabilities, ONE support person over the age of 18 is permitted. Support persons must pass our screening process, and there are no restrictions on visiting hours for support persons 
Visitors or caregivers qualifying for these exceptions must:
Meet clinical criteria used for general visitation, i.e., pass COVID-19 screening. The screening includes a temperature and symptom check, at least 24 hours fever free without the use of fever-reducing medications, and improved symptoms.
Use PPE appropriate for the patient they are supporting.  In the event the patient is COVID positive, the support person must use hospital-provided PPE. 
Wear a face mask for the duration of their visit and are encouraged to bring their own masks; surgical masks will be provided to visitors who don't have their own. Scarves, bandannas, and handkerchiefs are not allowed. Refusal to wear a mask will result in the revocation of visitation privileges.
Additional Considerations:
Emergency Department/Outpatient Appointments: No visitors will be allowed in these areas or their waiting rooms. Designated exceptions apply with the approval of clinical staff.
Surgical Patients: No visitors unless the parent of a child/minor having a procedure. Certain approved escorts will be allowed in certain circumstances with permission from the care team. Approved escorts will then be asked to wait outside of the hospital until the recovery period is complete and the patient is ready to depart. 
While we are sensitive to the difficulties facing loved ones of hospitalized patients, our health care team must keep our patients and staff safe during this unprecedented health emergency.
We encourage family members and friends to use alternative ways to interact with their loved ones, including phone calls, Facetime and Skype.
What to do if you're sick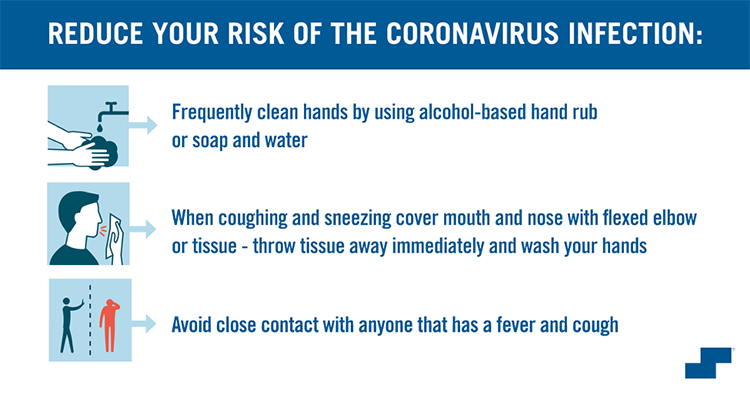 Stay home except to get medical care
Stay home: People who are mildly ill with COVID-19 are able to recover at home. Do not leave, except to get medical care. Do not visit public areas.
Stay in touch with your doctor. Call before you get medical care. Be sure to get care if you feel worse or you think it is an emergency.
Avoid public transportation: Avoid using public transportation, ride-sharing, or taxis.
Social Distancing
As much as possible, you should stay in a specific "sick room" and away from other people in your home. Use a separate bathroom, if available.
Limit contact with pets & animals: You should restrict contact with pets and other animals, just like you would around other people.
Although there have not been reports of pets or other animals becoming sick with COVID-19, it is still recommended that people with the virus limit contact with animals until more information is known.
Call Ahead before visiting your doctor
Call ahead: If you have a medical appointment, call your doctor's office or emergency department, and tell them you have or may have COVID-19. This will help the office protect themselves and other patients.
Monitor your symptoms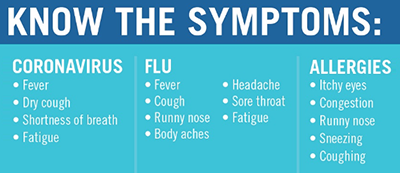 Seek medical attention, but call first: Seek medical care right away if your illness is worsening (for example, if you have difficulty breathing).
Call your doctor before going in: Before going to the doctor's office or emergency room, call ahead and tell them your symptoms. They will tell you what to do.
Medical Supplies Donations
At Tempe St. Luke's Hospital, we are humbled by the generosity of all who have inquired about donating medical supplies to support our staff and patients during the COVID-19 outbreak. Our medical supply chain team has worked diligently to procure necessary Personal Protective Equipment (PPE) for our health care workers who are on the front line. As COVID-19 continues to spread, and with the increased global shortage of supplies, Tempe St. Luke's Hospital is now gratefully accepting donations of needed supplies.
---
Requested donation categories include:
Disinfection Wipes & Liquids
General Purpose Hand Cleansers
Disposable Head Covers/Caps
Disposable Gowns
Disposable Gloves
N95 Respirator Face Masks
Powered Air Purifying Respirators (PAPRs)
Disposable Face Masks
Face-shields/Goggles/Safety Glasses
Coveralls/Scrubs
Shoe-covers
---
Donations can be delivered:
By Mail to: Tempe St. Luke's Hospital (Attention to Materials)
1500 S. Mill Avenue
Tempe, AZ 85281
In person (with scheduled delivery)
Please do not drop off. To schedule a drop off time/location, contact Cindy Price at 480-784-5682  or by emailing [email protected]