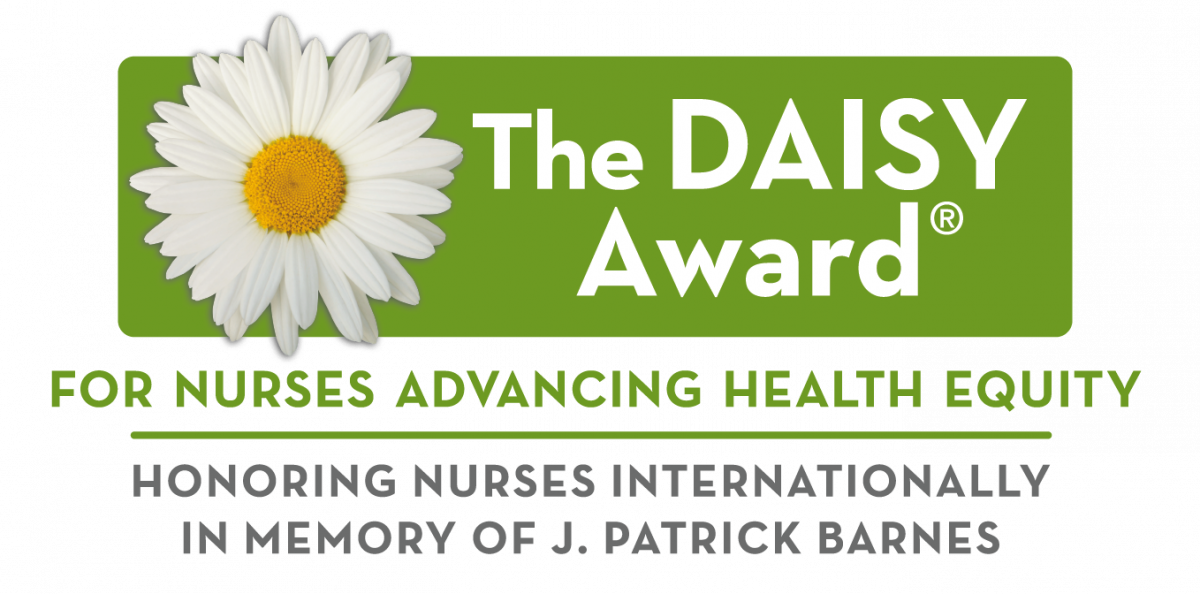 What is the DAISY Award?
The DAISY (Diseases Attacking the Immune System) Award is an international recognition program that honors and celebrates the skillful, compassionate care nurses provide every day. In late 1999, at the age of 33, Patrick Barnes woke up with some blood blisters in his mouth. A visit to the doctor revealed he had a dangerously low platelet count and he was admitted to the hospital. The diagnosis was the autoimmune disease ITP (Idiopathic Thrombocytopenic Purpura). The DAISY Foundation was established by Barnes' family after he died from complications of ITP in 1999.
Patrick's family was so touched by the compassionate care both he and his family received while he was hospitalized. When he died, they felt compelled to say "thank you" to nurses in a very public way, so they created this award to recognize those outstanding nurses that go above and beyond every single day.
According to Patrick's father, Mark, says, "We wanted to give patients, families, and co-workers an easy way to express their gratitude for nurses who provide extraordinary compassionate care.  And we wanted the program to honor nurses all year long – not only during Nurses Week.  At the time we started the program, we could not have anticipated that The DAISY Award would come to be regarded as a strategic tool for nurse recruitment, retention, and resilience, adopted by healthcare facilities across the continuum of care all over the U.S. and beyond. The creative ways nurses and their organizations have brought The DAISY Award to life to honor compassionate care have inspired and delighted us."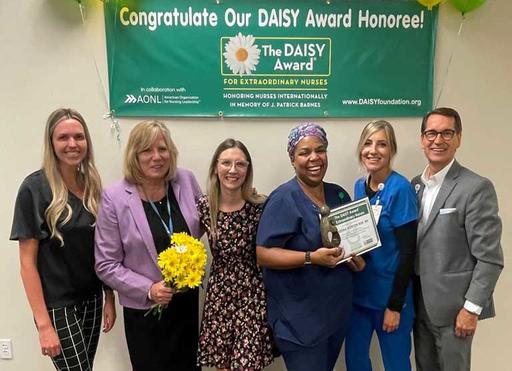 #Tempestlukeshopsital is proud to announce its Daisy Award Winner for Second Quarter this year….. Markesha Horton, RN.
We announced Markesha's win last night during our Daisy Award Celebration! Hospital President, Brent Cope and Chief Nursing Officer (CNO), Sue Peck were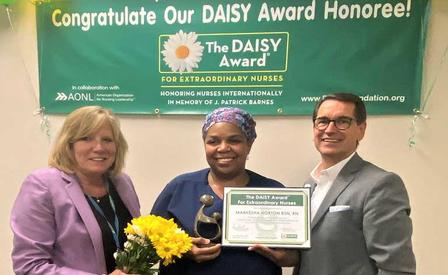 there to hand the award to Markesha.
All of our 2nd Quarter Daisy Award nominees were there, as was the patient who nominated Markesha, along with dozens of other TSLH nurses, providers and staff.
Markesha was nominated by a patient, who said, "Markesha went out of her way to make sure I was comfortable. She genuinely cares about her patients and doesn't treat nursing just as a job. She goes above and beyond. We nee more nurses like her." The patient couldn't make the ceremony, but she did record a special message for Markesha which was played at the dinner.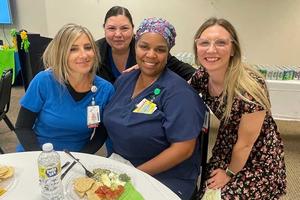 Markesha is described by her peers, patients, and anyone who meets her as:
"Always having and smile on her face, no matter what's going on"
"A ray of sunshine and a wealth of knowledge"
"A Rockstar, kind, compassionate & intelligent"
"AMAZING! She goes above and beyond for EVERY patient."
"The best team player:
"Empathetic, selfless, always using EBP."
Needless to say, but Markesha is considered to be a huge asset for the Hospital and currently serves as a charge nurse on the second floor, as well as a preceptor. Her supervisors add to her list of accolades, saying she is always thinking outside the box and makes a connection with each and every patient she touches.
Congratulations to Markesha. You exemplify not only the Daisy Award values, but also those of #Tempestlukeshospital and are a shining example to others. Thank you for all you do for our patients and your teammates!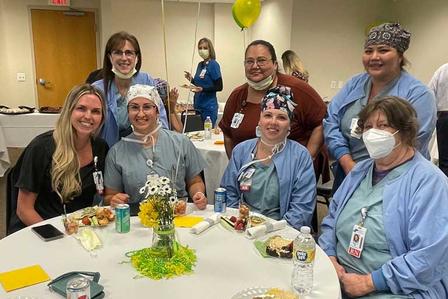 We also would like to again recognize the other four 2nd Quarter nominees:
Krista Mead, RN
Kolby Misseldine, RN
Katie Partlow, RN
Mercedes Walker, RN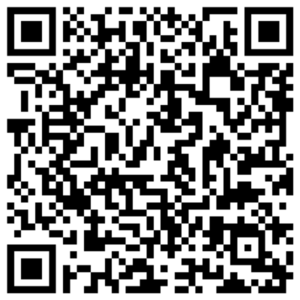 Please say thank you by sharing your story of how a nurse made a difference you will never forget!
Each DAISY Award Honoree will be recognized at a public ceremony in her/his unit and will receive: a beautiful certificate, a DAISY Award pin, and a hand-carved stone sculpture entitled A Healer's Touch.  Additionally, everyone in the until will celebrate with cinnamon rolls--a favorite of Patrick's during his illness. The Barnes Family asks that whenever and wherever nurses smell that wonderful cinnamon aroma, they stop for a moment and think about how special they are.
Does Your Nurse Have PETALS?
P - Passion/Compassion 
E - Empathy
T - Trust and Teamwork
A - Admirable Attributes
L - Love
S - Selflessness
Watch this video to learn more about the DAISY Award or visit the DAISY Foundation website.