Tempe St. Luke's Hospital Receives Hip and Knee Replacement Program Certification from DNV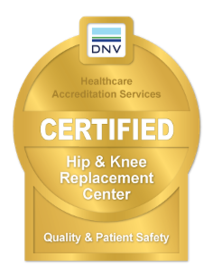 TEMPE – Tempe St. Luke's Hospital has earned the distinguished recognition as a DNV certified Hip & Knee Replacement Center.
The DNV Hip and Knee Replacement Program Certification, based on standards set forth by and considering the guidelines of the American Academy of Orthopedic Surgeons, recognizes program excellence in patient care and outcomes.
DNV certification as a Hip & Knee Replacement Center validates Tempe St. Luke's Hospital's excellence across the spectrum of hip and knee replacement care, from diagnosis to treatment, rehabilitation, education, and outcomes.
"This certification tells our community that we have the resources and commitment to provide the best possible care for Hip and Knee replacement," says Brent Cope, CEO, Tempe St. Luke's Hospital. "It's a combination of the right equipment, personnel and training to exhibit excellence in orthopedic surgery within the scope of Hip and Knee Replacement and related procedures. Achieving certification validates all the effort we have put into this program to ensure the health and safety of our patients."
"Achieving certification shows commitment to excellence," says Patrick Horine, CEO of DNV Healthcare USA, Inc. "It helps demonstrate to your community that you are performing at the highest level."
To learn more about the Orthopedic Program at Tempe St. Luke's Hospital, or to make an appointment call (602) 553-3113.
About Tempe St. Luke's Hospital
Tempe St. Luke's Hospital is a 74-bed, full-service hospital that has been caring for families and residents in the community since 1944. Located in the heart of Tempe, the hospital is centrally located and offers a full range of high-quality services to serve our diverse and dynamic community. Our team is committed to providing excellent care in a friendly community hospital environment. Tempe St. Luke's Hospital is accredited by DNV Healthcare, a worldwide leader in quality management.
As the country's largest physician-led, tax paying, integrated health care system, our doctors can be certain that we share their interests and those of their patients. Together we are on a mission to revolutionize the way health care is delivered - creating healthier lives, thriving communities and a better world.
Steward is among the nation's largest and most successful accountable care organizations (ACO), with more than 5,500 providers and 43,000 health care professionals who care for 12.3 million patients a year through a closely integrated network of hospitals, multispecialty medical groups, urgent care centers, skilled nursing facilities and behavioral health centers.
Based in Dallas, Steward currently operates 39 hospitals across Arizona, Arkansas, Florida, Louisiana, Massachusetts, Ohio, Pennsylvania, Texas and Utah.
About DNV
DNV is a global independent certification, assurance and risk management provider, operating in more than 100 countries. Through its broad experience and deep expertise, DNV advances safety and sustainable performance, sets industry benchmarks, drives innovative solutions.
Whether certifying a company's management system or products, accrediting hospitals, providing training, assessing supply chains or digital assets, DNV enables customers and stakeholders to make critical decisions with confidence, continually improve and realize long-term strategic goals sustainably.
DNV draws on its wide technical and industry expertise to help companies worldwide build consumer and stakeholder trust. Driven by its purpose, to safeguard life, property, and the environment, DNV helps tackle the challenges and global transformations facing its customers and the world today and is a trusted voice for many of the world's most successful and forward-thinking companies.
For more information about DNV, visit www.dnvcert.com/healthcare
CONTACT: Michael Neely
Director, Marketing and Public Relations
P: 480.784.5662 | C: 410.419.0265
E: [email protected]