Tempe St. Luke's Hospital Awards Two Local Firefighter Paramedics for Heroic Actions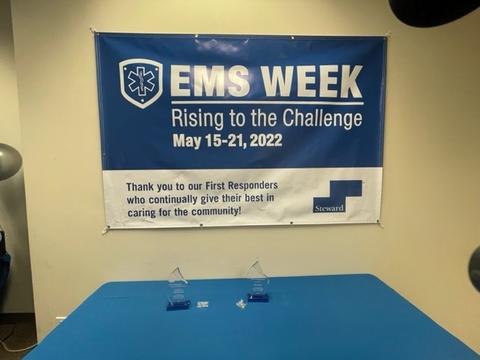 TEMPE, AZ – On Wednesday, March 18, 2022, Tempe St. Luke's Hospital held its second annual EMS Stewards of the Community Award Event. The first ceremony was held in May of 2019, and like every other event of its kind, it was put on hold because of the COVID19 pandemic, thus the 3-year gap in holding the event. This ceremony began at Tempe St. Luke's Hospital sister facilities in Massachusetts and is now an event held annually at all 44 Steward hospital nationwide.  The celebration is designed to recognize and award EMS professionals who have gone above and beyond their normal life saving duties and is held during EMS Week.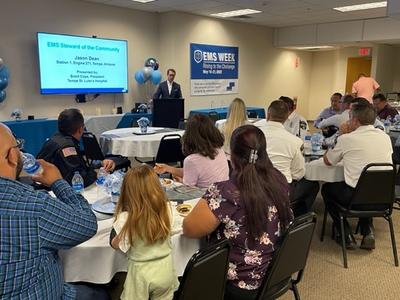 Tempe St. Luke's Hospital put the call out to both the Tempe and Guadalupe Fire Departments and posted on social media asking for nominations. Several outstanding nominations were received, but the two that stood out and exemplified what it means to be a true Steward of the Community were for Tempe Firefighter Paramedic, Jason Dean, and Guadalupe Firefighter Paramedic, Alan Romania. Tempe St. Luke's Hospital was proud to recognize these two exceptional EMS professionals: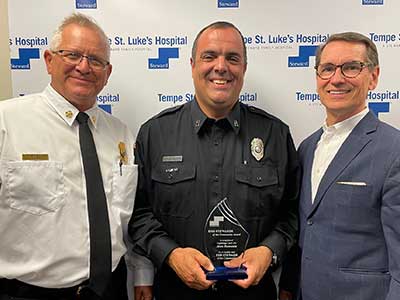 Tempe Firefighter Paramedic, Jason Dean: You may recall the Chandler print shop explosion back in August of 2021, it was, and continues to be in the news. Jason was off duty that day and across the street from the shop when it exploded. He rushed into action and because of his training and knowledge he was able to quickly get the proper assistance needed and saved the lives of 3 men. 
Last month, Jason was recognized as Arizona's 2022 Firefighter of the Year. This honor was bestowed on him by his peers and given to him at the annual Boots and Badge Gala which honors the Firefighter and Police Officer of the year.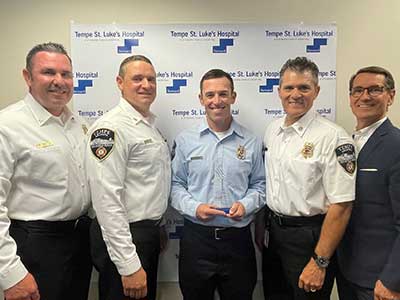 Guadalupe Firefighter Paramedic, Alan Romania: Alan, a 23-year veteran of the Guadalupe Fire Department, and his crew were called to a drowning in July 2021 and because of Alan's extensive background and expertise in paramedicine, they were able to save the life a little 2-year-old girl. And after 4 days in the ICU in a coma, the little girl woke up as if nothing happened. The parents were so grateful they invited Alan and his crew back to help celebrate the little girl's 3rd birthday. The family helped Tempe St. Luke's Hospital honor Alan by attending the ceremony and thanking him again for what he did.   
Tempe St. Luke's Hospital was also honored to have as the Keynote Speaker of the evening, Derek Boehm, RN, CEP. Derek is the sole survivor of a tragic medical helicopter crash that happened here in the Valley, December 18, 2015. Derek shared his story of bravery and strength in his fight to survive his horrific crash, in which he suffered two broken femurs as well as fractured scapula, ribs and ankle. Even through the trauma of watching his partner die in his arms, Derek had the presence of mind to use his cell phone flashlight to signal a search and rescue crew. 
After years of rehabilitation, Derek finished his nursing degree and has, believe or not, returned to the air, this time in a small plane, as a flight nurse in Hawaii. 
 
About Tempe St. Luke's Hospital
Tempe St. Luke's Hospital is a 74-bed, full-service hospital that has been caring for families and residents in the community since 1944. Located in the heart of Tempe, the hospital is centrally located and offers a full range of high-quality services to serve our diverse and dynamic community. Our team is committed to providing excellent care in a friendly community hospital environment. Tempe St. Luke's Hospital is accredited by DNV Healthcare, a worldwide leader in quality management.
About Steward Health Care System:
Nearly a decade ago, Steward Health Care System emerged as a different kind of health care company designed to usher in a new era of wellness. One that provides our patients better, more proactive care at a sustainable cost, our providers unrivaled coordination of care, and our communities greater prosperity and stability.
As the country's largest physician-led, tax paying, integrated health care system, our doctors can be certain that we share their interests and those of their patients. Together we are on a mission to revolutionize the way health care is delivered - creating healthier lives, thriving communities and a better world.
 Steward is among the nation's largest and most successful accountable care organizations (ACO), with more than 5,500 providers and 43,000 health care professionals who care for 12.3 million patients a year through a closely integrated network of hospitals, multispecialty medical groups, urgent care centers, skilled nursing facilities and behavioral health centers.  
Based in Dallas, Steward currently operates 39 hospitals across Arizona, Arkansas, Florida, Louisiana, Massachusetts, Ohio, Pennsylvania, Texas, and Utah.