Tempe St. Luke's Hospital's Clinical Educator First in State to Win Leadership Award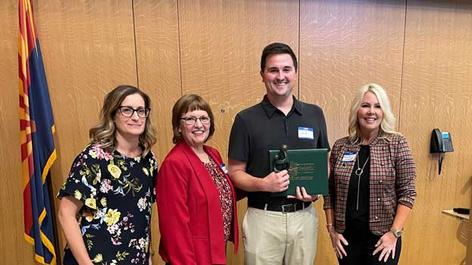 TEMPE – On Friday, October 21, 2022, Joseph Pirrocco, MSN, RN, CEN, a Clinical Educator/Trauma Coordinator at Tempe St. Luke's Hospital, a Steward Health Care hospital, was recognized by the Arizona League for Nursing (AzLN) with the DAISY Nurse Leader Award for Nursing Clinical Educators. Pirrocco is the first in the state to receive this prestigious award from the AzLN.
"Joe is a tremendous asset to Tempe St. Luke's Hospital, and we couldn't be prouder of him," said Patrick Dunn RN, MAS/MHA, Chief Nursing Officer at Tempe St. Luke's Hospital. "Joe exemplifies the type of nurse and the nursing care we strive to deliver here at Tempe St. Luke's Hospital. He is the consummate nursing professional and his dedication to teaching and serving others is more than deserving of this type of recognition."
Pirrocco was nominated by Allegra Shepherd MSN-ed, RN, RNC-OB, C-EFM, a Clinical Assistant Professor at Arizona State University. Shepherd was the clinical instructor for a group of students who completed a clinical rotation at the Tempe St. Luke's Hospital this past summer.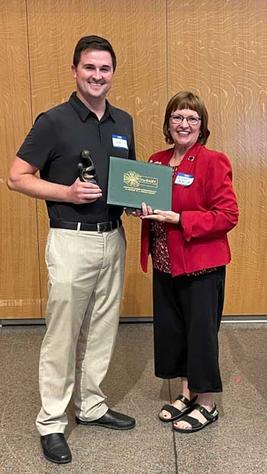 Calling Pirrocco's impact on the nursing students "extraordinary and influential," Shepherd cited examples from students who recalled how his dedication to his profession had left a lasting impact: "One of the days we were at the hospital, an emergency situation came in. This situation left many students shaken. Even though it was the end of the day, Joseph took the time to debrief with the students, talking through emotions that many of the students were feeling, discussing therapeutic coping strategies, and filling in knowledge gaps that students missed or interpreted incorrectly. Following that day, many of the students' clinical evaluation tool reflected on the experience and expressed that they felt safe and supported in the environment, and how a stressful situation turned into a positive learning experience. Here is an excerpt from one student: 'It's important for students to have this kind of safe environment in order to build their confidence in being a nurse. If I didn't have this kind of environment, I don't think I would've been able to process my emotions in a healthy manner.' This exemplifies how Joseph fosters a compassionate environment where learners flourish. Joseph facilitates a spirit of inquiry and lifelong learning in many ways."
The DAISY Nurse Leader Award for Nursing Clinical Educators, formerly known as the DAISY Nurse Leader Award for Extraordinary Nurse Educators, was established in 2021 in collaboration with the Wisconsin League for Nursing (WLN) and The DAISY FoundationTM. The WLN expanded collaboration in 2022 to include the Arizona and New Jersey Leagues for Nursing. The purpose of the Award is to recognize exceptional nurses in clinical practice or simulation who exhibit, inspire, and nurture compassion and respect amongst peers, mentees, students, or colleagues. These nurses directly influence learning in clinical practice/simulation and play a crucial role in the formation of exceptional frontline nurses. In turn, these individuals encourage nurses or nursing students to exhibit acts of compassion and build relationships with patients and families.
"The Arizona League for Nursing is excited to being recognizing Joe as our first ever recipient of this prestigious award," said Diann DeWitt PhD, RN, CNE, AzLN President. "After reading Ms. Shepherd's nomination letter, it was obvious the impact Joe had on her students and his dedication to the nursing profession made him the ideal choice to be our first Honoree."
About Tempe St. Luke's Hospital
Tempe St. Luke's Hospital is a 74-bed, full-service hospital that has been caring for families and residents in the community since 1944. Located in the heart of Tempe, the hospital is centrally located and offers a full range of high-quality services to serve our diverse and dynamic community. Our team is committed to providing excellent care in a friendly community hospital environment. Tempe St. Luke's Hospital is accredited by DNV Healthcare, a worldwide leader in quality management.
About Steward Health Care System:
Nearly a decade ago, Steward Health Care System emerged as a different kind of health care company designed to usher in a new era of wellness. One that provides our patients better, more proactive care at a sustainable cost, our providers unrivaled coordination of care, and our communities greater prosperity and stability.
As the country's largest physician-led, tax paying, integrated health care system, our doctors can be certain that we share their interests and those of their patients. Together we are on a mission to revolutionize the way health care is delivered - creating healthier lives, thriving communities and a better world.
Steward is among the nation's largest and most successful accountable care organizations (ACO), with more than 5,500 providers and 43,000 health care professionals who care for 12.3 million patients a year through a closely integrated network of hospitals, multispecialty medical groups, urgent care centers, skilled nursing facilities and behavioral health centers.
Based in Dallas, Steward currently operates 39 hospitals across Arizona, Arkansas, Florida, Louisiana, Massachusetts, Ohio, Pennsylvania, Texas and Utah.