Comprehensive Stroke Care Now Offered at Tempe St. Luke's Hospital
Hospital Earns Prestigious Primary Stroke Center Certification from DNV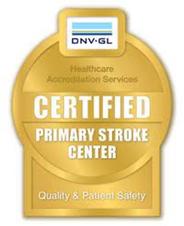 TEMPE – When someone experiences a stroke, every second counts in obtaining emergency medical care. Now, for residents of Tempe, certified, comprehensive stroke care is available right in the community at Tempe St. Luke's Hospital. The hospital is pleased to announce it has earned the distinguished recognition as a Certified Primary Stroke Center from DNV-GL (Det Norske Veritas & Germanischer Lloyd).
"We are very proud of our team and its dedication to bringing such an important program to our hospital but we're more excited for the residents of Tempe who can now receive comprehensive stroke care here at Tempe St. Luke's. It's a gamechanger for our patients," said Damon Brown, President, Arizona Regional Market for Steward Health Care, the parent company of Tempe St. Luke Hospital.
Stroke remains a leading cause of death in the United States, killing approximately 130,000 people each year, and is the leading cause of serious, long-term adult disability, according to the American Stroke Association. Because stroke or "brain attack" effects blood flow to the brain, rapid and effective treatment can save lives and provides the best chance of limiting the extent of long-term damage. Until Tempe St. Luke's Hospital earned its Primary Stroke Center Certification, Tempe residents had to seek treatment at facilities outside the Tempe City limits.
"By becoming a Primary Stroke Center, now Tempe EMS crews can bring residents of Tempe directly to Tempe St. Luke's Hospital to receive rapid and effective treatment," said Ethan Burwell, RN, Stroke Coordinator and Clinical Nurse Educator for Tempe St. Luke's Hospital. "This is a significant achievement for our community because the time it used to take traveling to a stroke center outside Tempe is now focused on the actual delivery of the much-needed treatment. This certification is going to help us save even more lives." 
The DNV-GL Primary Stroke Center Certificate is based on standards set forth by the Brain Attack Coalition and the American Stroke Association and affirms that Tempe St. Luke's Hospital addresses the full spectrum of stroke care – diagnosis, treatment, rehabilitation, and education – and establishes clear metrics to evaluate outcomes. The Tempe St. Luke's Hospital Stroke Committee dedicated more than a year toward developing and implementing the life-saving policies and procedures the certification requires.
The American Stroke Association stresses the importance of family, friends, and members of the public, being able to quickly identify the common signs and symptoms of a stroke. The ASA uses the   acronym: B.E. F.A.S.T., which stands for:
Balance: Is the person suddenly having trouble with balance or coordination?
Eyes: Is the person experiencing suddenly blurred or double vision or a sudden loss of vision in one or both eyes without pain?
Face: Ask the person to smile. Does one side of the face droop?
Arms: Ask the person to raise both arms. Does one arm drift downward?   
Speech: Ask the person to repeat a simple phrase. Is their speech slurred or strange?
Time: If you observe any of these signs, call 9-1-1 IMMEDIATELY.
"It is critical for patients suffering from a stroke to get care as quickly as possible, and we want people to know that they now can receive that care here at Tempe St. Luke's Hospital, if they or a loved one are having a stroke emergency," said Dr. Daniel Oscislawski, Medical Director, Tempe St. Luke's Hospital Emergency Department. "I can't stress enough, recognizing a stroke, calling 9-1-1, and getting the patient to the hospital as quickly as possible can save their life and greatly improve the patient's outcome."
To learn more about Tempe St. Luke's Hospital and its commitment to providing excellent, compassionate care, please visit http://www.tempestlukeshospital.org.
About Tempe St. Luke's Hospital
Tempe St. Luke's Hospital is a 74-bed, full-service hospital that has been caring for families and residents in the community since 1944. Located in the heart of Tempe, the hospital is centrally located and offers a full range of high-quality services to serve our diverse and dynamic community. Our team is committed to providing excellent care in a friendly community hospital environment. Tempe St. Luke's Hospital is accredited by DNV Healthcare, a worldwide leader in quality management.
About Steward Health Care System
Nearly a decade ago, Steward Health Care System emerged as a different kind of health care company designed to usher in a new era of wellness. One that provides our patients better, more proactive care at a sustainable cost, our providers unrivaled coordination of care, and our communities greater prosperity and stability.
As the country's largest physician-led, tax paying, integrated health care system, our doctors can be certain that we share their interests and those of their patients. Together we are on a mission to revolutionize the way health care is delivered - creating healthier lives, thriving communities and a better world.
Steward is among the nation's largest and most successful accountable care organizations (ACO), with more than 5,500 providers and 43,000 health care professionals who care for 12.3 million patients a year through a closely integrated network of hospitals, multispecialty medical groups, urgent care centers, skilled nursing facilities and behavioral health centers. 
Based in Dallas, Steward currently operates 39 hospitals across Arizona, Arkansas, Florida, Louisiana, Massachusetts, Ohio, Pennsylvania, Texas, and Utah.
About DNV-GL
DNV is a global independent certification, assurance, and risk management provider, operating in more than 100 countries. Through its broad experience and deep expertise, DNV advances safety and sustainable performance, sets industry benchmarks, drives innovative solutions.
Whether certifying a company's management system or products, accrediting hospitals, providing training, assessing supply chains or digital assets, DNV enables customers and stakeholders to make critical decisions with confidence, continually improve and realize long-term strategic goals sustainably.
DNV draws on its wide technical and industry expertise to help companies worldwide build consumer and stakeholder trust. Driven by its purpose, to safeguard life, property, and the environment, DNV helps tackle the challenges and global transformations facing its customers and the world today and is a trusted voice for many of the world's most successful and forward-thinking companies.
For more information about DNV, visit www.dnvcert.com/healthcare.