Surgical Services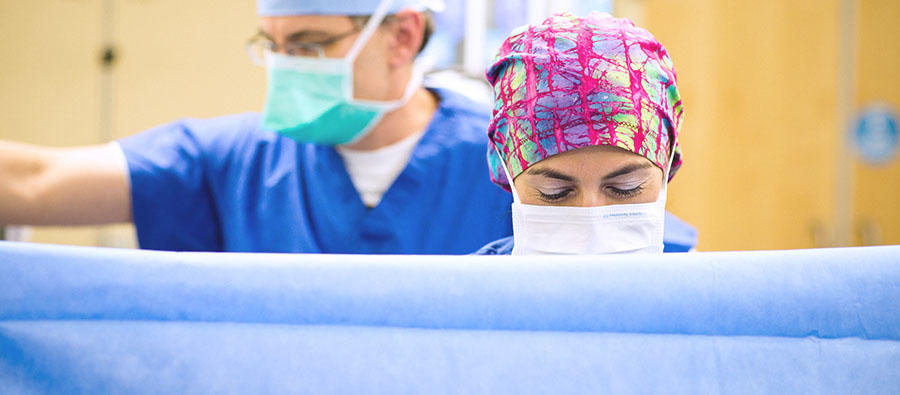 We are here to help you find what you need.
Tempe St. Luke's Hospital offers a wide range of surgical procedures—from sophisticated procedures to minimally invasive procedures that don't even require an overnight stay in the hospital.
Surgical Procedures Performed At Tempe St. Luke's:
Balloon Sinuplasty™
Bariatric (Weight loss)
Colorectal
Cosmetic/Plastic
EsophyX TIF
Gastroenterology (including EsophyX TIF) 
General
Gynecology
Obstetrics
Oral/Maxiofacial 
Orthopedic
Otolaryngology
Podiatry
What Is A Minimally Invasive Surgery or Procedure?
Thanks to breakthroughs in medical technology, many surgeries that once involved major operations now can be performed through tiny incisions. In these operations, surgeons use instruments guided by miniature cameras. As a result, patients usually heal faster, experience less scarring and can return to their normal activities more quickly. Some of our surgical suites are specifically designed for these procedures.
Is Outpatient Surgery an Option?
New technologies also enable surgeons to perform many operations on an outpatient basis. These procedures minimize surgical trauma and the time needed for recovery, so you can return to the comfort of your home on the same day as surgery.
EsophyX TIF
EsophyX TIF (transoral incisionless fundoplication) is the latest treatment for safely and effectively treating chronic acid reflux disease, also known as gastroesophageal reflux disease (GERD). A completely incisionless procedure, EsophyX TIF reconstructs the antireflux barrier to provide a solution to the anatomical root cause of GERD. The procedure is for patients who are dissatisfied with current pharmaceutical therapies or are concerned about the long-term effects of daily use of reflux medications.
TIF is performed endoscopically using the innovative EsophyX surgical device from EndoGastric Solutions. In clinical studies, 79% of patients remained off daily PPIs (proton pump inhibitors) and 70% experienced a total elimination of heartburn at two years after the EsophyX TIF procedure.
The FDA cleared EsophyX device is completely incisionless and is performed through the mouth, rather than through an abdominal incision. Typically lasting no more than 30-45 minutes, the procedure is performed under general anesthesia and reconstructs the antireflux barrier to restore the competency of the gastroesophageal junction. Most patients can go home the next day and return to work within a few days.
How Should I Prepare for Surgery?
Before Surgery Your doctor or nurse will give you specific instructions on preparing for your procedure. They will tell you not to eat or drink anything for a specified period prior to surgery and they will inform you about any medications you should or should not take. For your safety, it is very important to follow all of these instructions. If you fail to follow your pre-op instructions, it may be necessary to postpone your surgery.
Most types of surgery require pre-surgery testing. If possible, these tests (lab work, X-rays, EKG, etc.) should be completed at least three days before your procedure so your doctor will have time to review the results before your operation. Please bring your insurance card when you come to the hospital for pre-surgery testing.
If you are unable to keep your appointment for surgery, please notify both your physician and the hospital as soon as possible. You may contact our Surgery Scheduling Department at 480-333-5131.
What Should I Do The Day of My Surgery?
On the day of surgery, please report to the Admitting Department/Registration in the main lobby. You may park in the parking lot in front of the hospital. When you come to the hospital, please follow these guidelines:
Wear comfortable, loose-fitting clothes.
Leave all jewelry, money and other valuables at home or with your family.
Bring appropriate storage for personal items such as dentures, contact lenses, hearing aids, and prostheses. We will label these items and keep them in a safe place during your procedure.
Arrange for someone to pick you up after surgery. Due to the effects of anesthesia, you will be unable to drive yourself home.
We make every effort to begin your procedure at the scheduled time. However, emergency cases can affect the surgery schedule. We recommend that you bring a book or magazine to read just in case there is a delay in your procedure.
When you arrive, a nurse will record your vital signs and other pertinent health information. You will be asked to sign a surgery consent form, and your anesthesiologist and surgeon will visit you. A family member or friend can be with you in the pre-surgical area before surgery. When you are taken to the operating room, your loved ones are welcome to wait in our comfortable waiting area, where our staff can provide updates on your progress.
What Should I Do After Surgery?
After your procedure, you can rest and recover in the surgical recovery area until your medical team determines you are able to go home. The length of your stay will depend on the type of surgery scheduled. When it is time to go home, your physician or nurse will give you specific instructions on how to care for yourself and who to call if you have problems.
Our surgery staff is committed to helping you understand the entire surgical experience. We encourage you and your family to ask questions. This will help you to feel more comfortable while you are in the hospital and better prepared for recovery once you are home.